People with an Intuitive SolePath are inherently fun and full. This means that they are an intuitive person, who is positive and playful, full of ideas and one who needs physical activity. Their superpower is their Sixth Sense.
They also have a path connected to this superpower, which describes their special and unique gifts and greatness. The paths in the Intuitive category are Builder, Creator, Hunter and Solitude.
---
Intuitive Builder
As an Intuitive Builder, you are a practical ideas person. You have an extraordinary ability to see the possibilities, to know the end result and how everything fits together. You form things into something better, you organize and connect. You make things happen. You are a tireless ideas person who is also emotional.
Core Energy for the Intuitive Builder: Seeing Possibilities and Creating Abundance.
Being an Intuitive Builder means finding ways to manifest your ideas and networking and connecting people for shared opportunities. It means understanding that you are an emotional yet loving person who is always on the look out for the next building block; the next piece of your puzzle. Your greatest fulfillment in seeing your ideas become reality is sharing the abundance of wealth and happiness with others.
Special gifts and greatness of the Intuitive Builder SolePath: full of practical ideas for community, one who is emotional.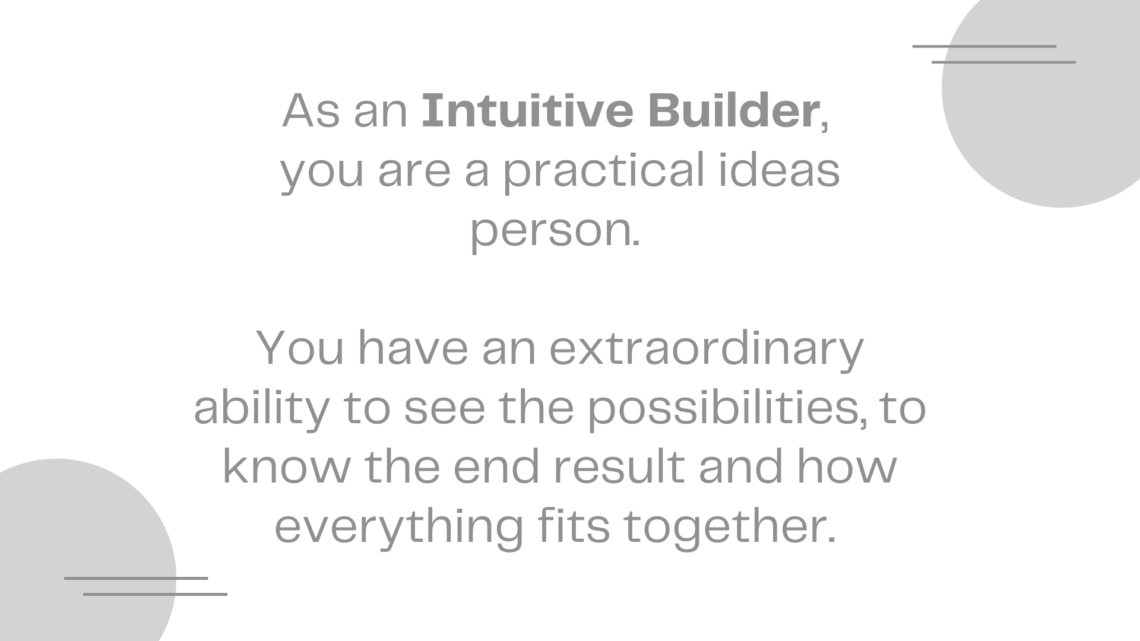 ---
Practical Ideas
The Intuitive Builder is a practical ideas person. They can see how all the pieces fit together to create the whole, they put the pieces together to create something amazing. They understand possibilities. Creative building projects are an important part of their life and they see the quality and uses of raw materials.
Self-esteem can be encouraged through physically building things and having the opportunity to build what they want. They are fulfilled by finding the best way to get things done and their joy is in the building. They are tireless, they organize and connect, and make things happen.
Being full of practical ideas is an incredible life skill. They make their ideas a reality. They can sometimes feel overwhelmed by too many possibilities and need help getting focused.
They use their intuition to see problems and create solutions clearly and easily. They discover the best way to get things done.
---
Community
They gather people around them from a very young age and are terrific community builders. Sharing their ideas with others is a big part of who they are.
It's important that they understand how important community is to them. Sharing experiences with friends and making memories is essential, they need opportunities to spend time with and share with others.
They are a participant in life, a gentle and warm person who is fun to be around. They can be a coach or a team player, depending on what's needed in the situation.
Intuitive Builders have the ability to create abundance for themselves and for their community. They have 'golden fingers' that create wealth.
---
Emotional
The Intuitive Builder is a deep and complex individual, who sometimes struggles with moodiness. They need tools to cope with their mood swings.
There are three sure-fire ways to help them when they are experiencing negative emotions: having fun, laughing, or working their body hard.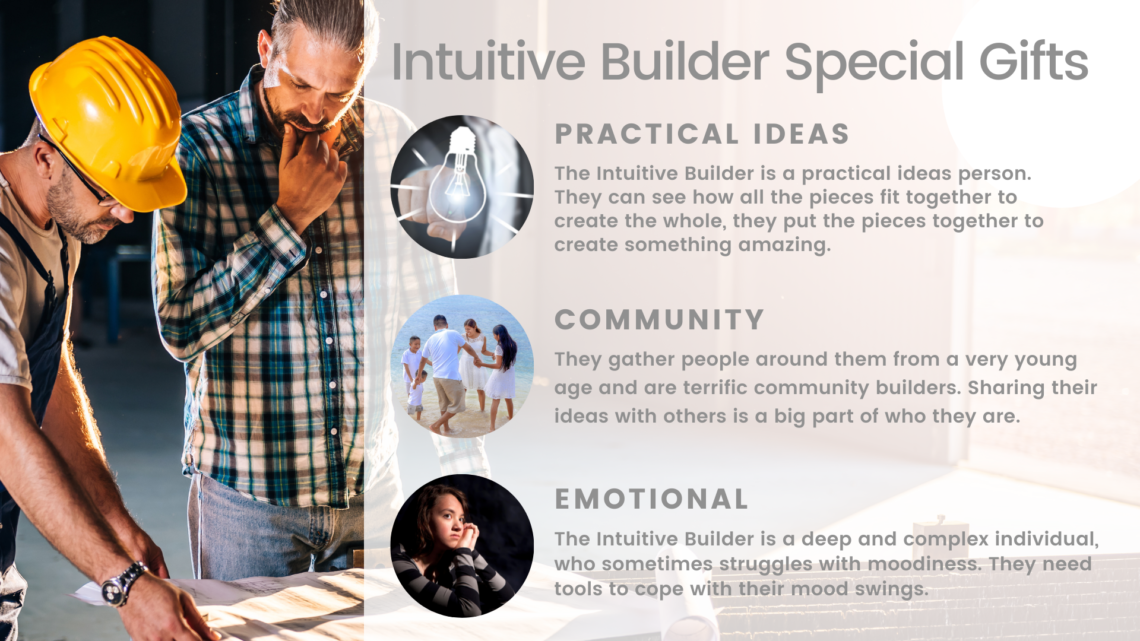 ---
Intuitive Builder in a Nutshell
---
Amy Winehouse and Muhammed Ali were Intuitive Builders.
Knowing this, contributes to understanding yourself at a deep level, and helps you to become the best version of yourself that you can be. Walk the path to purpose and a beautiful life.
Discover your SolePath by making an online request here. It's all by donation, whatever you can afford to give. It is a simple online process where you upload a recent headshot selfie and fill out a short form on our website.
Read more about Intuitive SolePaths.
---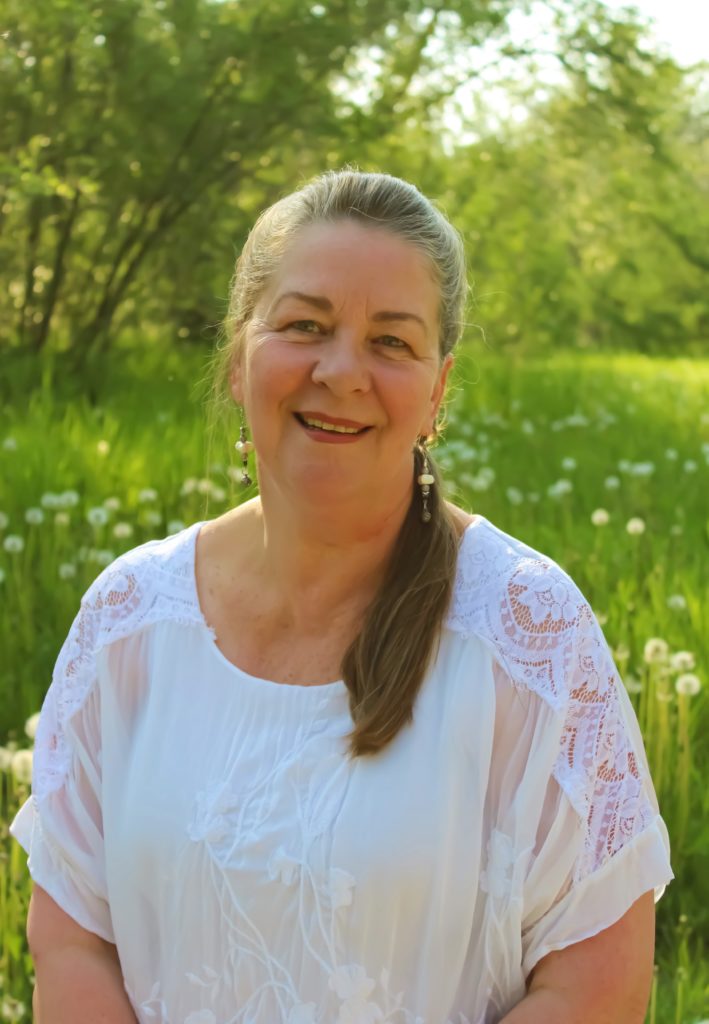 Author: Dr. Debra Ford Msc.D.
Dr. Debra is one of the world's foremost experts in metaphysical energy. She has a doctorate in metaphysical science and is a metaphysical philosophy teacher. She is an ordained minister and member of the American Metaphysical Doctors Association and the Canadian International Metaphysical Ministry.
Dr. Debra's SolePath is Inspirational Teacher and Spiritual Mystic. It is this SolePath that allows her to connect, create and communicate the original SolePath body of work.
Dr. Debra's work is based on the Tao. She is the author of 17 books including 'SolePath the path to purpose and a beautiful life', 'Daily Pulse, rhythm of the Tao' and her children's book 'Emilia Rose and the rainbow adventure'.
Join Dr. Debra on the Insight Timer meditation app for guided meditations, LIVE meditations, mentoring, courses, workshops and more.
What is Metaphysics? It is one of the main branches of philosophy (along with epistemology, logic, ethics) and deals with the nature of existence, truth and knowledge.
What is SolePath? Everyone is born with a SolePath. It is your unique, individual Spiritual Personality Profile. 'Sole' because it is solely about you. 'Path' because it guides you on your life's journey. 
Contact: DrDebra@SolePath.org
Grateful thanks to Dr. Janice Brown for the wonderful blog images.