Who is the Charismatic Gladiator?
People with a Charismatic SolePath are inherently bright and aware. They are a charismatic person who is brave, sensing, always growing and independent. Their superpower is their Sparkle.
They also have a path connected to this superpower, which describes their special and unique gifts and greatness. The paths with Sparkle superpower are Adventurer, Gladiator, Influencer, Leader and Performer.
---
Charismatic Gladiator:
As a Charismatic Gladiator, you raise the bar; you push us to higher standards. You are motivated by competition and raise the standards of performance of all of us. You love excitement and are always on the look out for an opportunity to win. You have a deep belief in yourself and your innate skills.
Core Energy of the Charismatic Gladiator: Excellence and Raising the Bar.
Being a Charismatic Gladiator means always striving for a better standard, pushing the rest of us to a higher standard of excellence, always raising the bar. You just want to be better and love a competitive environment. You just sense that it could be better!
Special gifts and greatness of the Charismatic Gladiator: committed competitor who strives for excellence.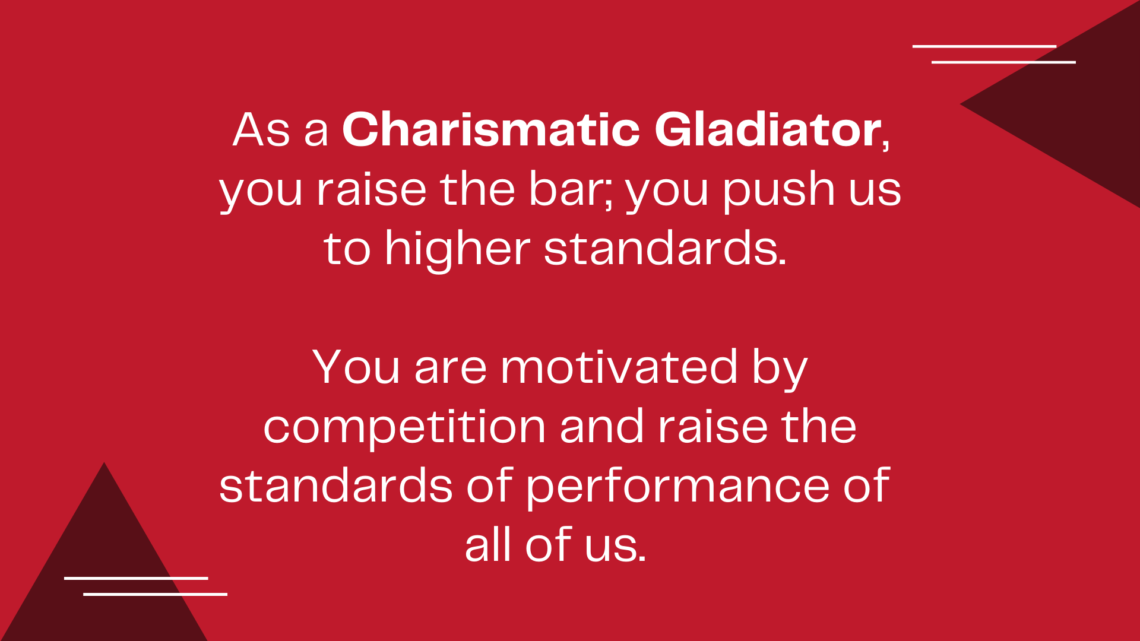 ---
Committed
Charismatic Gladiators raise the bar and push themselves and others to higher standards. They are motivated by competition and raise the levels of performance for all of us.
Their commitment to excellence is an incredible life skill. Charismatic Gladiators love excitement and are always on the lookout for an opportunity to win. They have a deep belief in themselves and their innate skills.
They are committed to excellence, even when this makes them seem a bit big-headed!
---
Competitor
Charismatic Gladiators need opportunities for healthy competition in order to show off their skills. They are motivated by competition and committed competitors. Their joy is their desire to win.
Charismatic Gladiators are perserving, dedicated and hardworking and they raise the standards of performance. Even though they are competitive, they are also fair and focused. They work hard and play hard and are certainly not made for the quiet life.
Their desire to win ranges from achieving personal excellence to winning at all costs. Independent pursuits and individual sports (rather than team sports), where they can compete against themselves, are perfect for the Charismatic Gladiator. This is healthy competition that encourages them to be their best.
Competition helps them improve and excel. This is their greatness. Healthy competition and experiences with both winning and losing provide them with a balanced life.
---
Excellence
They simply desire to do and be better and need supportive people around them to understand this and listen to their needs. They have a deep belief in self and their innate skills and this makes them love being the centre of attention.
Charismatic Gladiators have a unique SolePath which models excellence for all of us. Excelling at what they do is their gift, but it also needs to come with a healthy dose of humility.
Given the right environment, they will be the best at what they do. As they strive for excellence, they need to remember to respect others.
---
The Charismatic Gladiator in a Nutshell
---
Christina Grimmie, Dale Earnhardt, Heath Ledger, George Michael, Buddy Holly and Michael Jackson were all Charismatic Gladiators.
---
Knowing this, contributes to understanding yourself at a deep level, and helps you to become the best version of yourself that you can be. Walk the path to purpose and a beautiful life.
Discover your SolePath by making an online request here. It's all by donation, whatever you can afford to give. It is a simple online process where you upload a recent headshot selfie and fill out a short form on our website.
Read more about Charismatic SolePaths.
---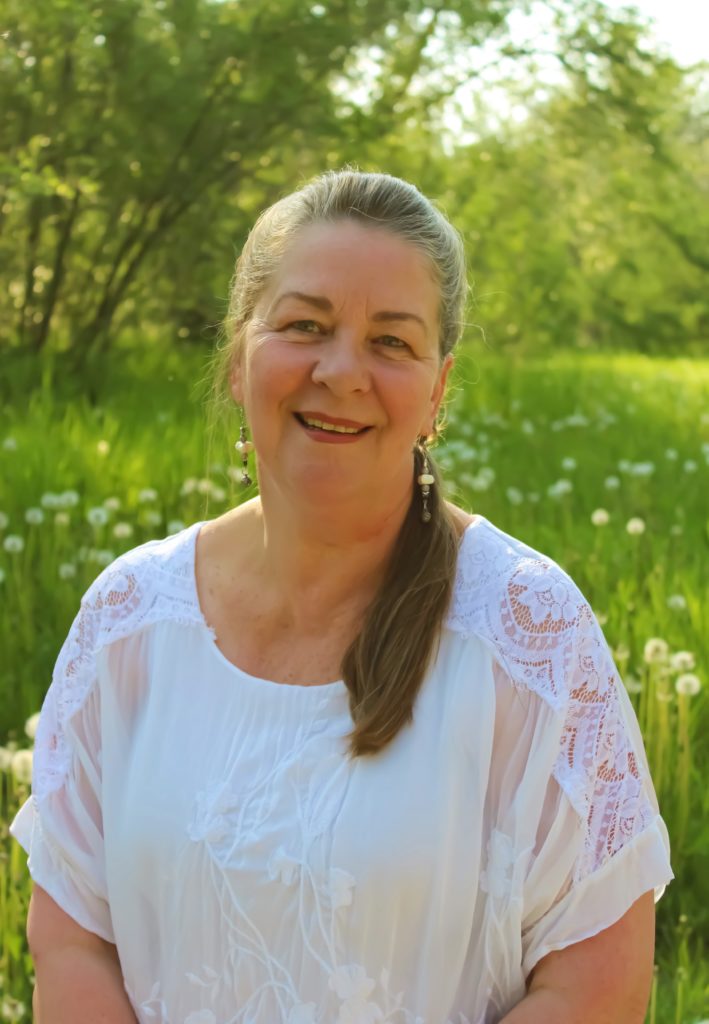 Author: Dr. Debra Ford Msc.D.
Dr. Debra is one of the world's foremost experts in metaphysical energy. She has a doctorate in metaphysical science and is a metaphysical philosophy teacher. She is an ordained minister and member of the American Metaphysical Doctors Association and the Canadian International Metaphysical Ministry.
Dr. Debra's SolePath is Inspirational Teacher and Spiritual Mystic. It is this SolePath that allows her to connect, create and communicate the original SolePath body of work.
Dr. Debra's work is based on the Tao. She is the author of 17 books including 'SolePath the path to purpose and a beautiful life', 'Daily Pulse, rhythm of the Tao' and her children's book 'Emilia Rose and the rainbow adventure'.
Join Dr. Debra on the Insight Timer meditation app for guided meditations, LIVE meditations, mentoring, courses, workshops and more.
What is Metaphysics? It is one of the main branches of philosophy (along with epistemology, logic, ethics) and deals with the nature of existence, truth and knowledge.
What is SolePath? Everyone is born with a SolePath. It is your unique, individual Spiritual Personality Profile. 'Sole' because it is solely about you. 'Path' because it guides you on your life's journey. 
Contact: DrDebra@SolePath.org
Grateful thanks to Dr. Janice Brown for the wonderful blog images.