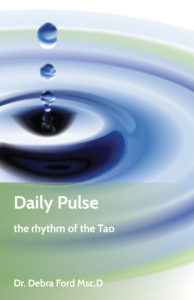 New book launch: Daily Pulse, rhythm of the Tao
The SolePath Institute is pleased to announce the launch of Dr. Debra's new book on Amazon in both hardcopy and kindle versions.
Available now
The Daily Pulse is rhythm and ritual that helps you cope with life's challenges and is the start of a journey of deep self awareness that leads to happiness. The Daily Pulse reminds you that personal change happens in small steady steps each day. That the transformation of how you feel, happens in the gift of time spent alone, in the rhythm of an inner process.
The Daily Pulse is for you if you are going through change; if you are feeling stuck and helpless; if your life feels as though it has no meaning; if you are experiencing any of life's challenges including divorce, a difficult medical diagnosis or grief.
The Daily Pulse brings rhythm to life, a precious ordinary experience that reawakens you to the beauty of a single moment.