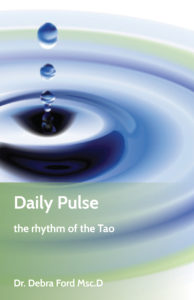 New book launch: Daily Pulse, rhythm of the Tao
The SolePath Institute is pleased to announce the launch of Dr. Debra's new book on Amazon in both hardcopy and kindle versions.
Available now
The Daily Pulse is rhythm and ritual that helps you cope with life's challenges and is the start of a journey of deep self awareness that leads to happiness. The Daily Pulse reminds you that personal change happens in small steady steps each day. That the transformation of how you feel, happens in the gift of time spent alone, in the rhythm of an inner process.
The Daily Pulse is for you if you are going through change; if you are feeling stuck and helpless; if your life feels as though it has no meaning; if you are experiencing any of life's challenges including divorce, a difficult medical diagnosis or grief.
The Daily Pulse brings rhythm to life, a precious ordinary experience that reawakens you to the beauty of a single moment.
More information on the Daily Pulse
New York: Nasdaq
SolePath publicity on Nasdaq, December 28, 2018.
We feel SO strongly about writing intentions we 'shouted it out loud!' on the New York Nasdaq.
Free course on how to write the best intentions using the profound beauty of the Tao: SoleIntending – a spiritual guide to writing goals.
Take this course
News for the Soul
SolePath is on News for the Soul on the 2nd Tuesday of the month at 9am PST starting September 11th.
"REPORTING FROM THE LEADING EDGE OF HUMANITY'S CONSCIOUSNESS EVOLUTION SINCE JANUARY 1997 … NFTS is home to the largest totally free life changing media library in the world. We are syndicated on the AIR, on the WEB … and beyond! DID YOU KNOW: News for the Soul is home to the largest and best totally free life changing audio resource on the world wide web since January 1997… … because what you focus on expands … NEWS FOR THE SOUL'S EXPONENTIAL GLOBAL SYNDICATION CONTINUES: News for the Soul is now available with one click on mobile phones and iPads all over the world, SONOS systems, in-car dashboards and more! Simply download free apps like Stitcher or Downcast and type News for the Soul in the search bar. You can also subscribe to us via iTunes or our RSS feed. And our online archives are here for you to access for free 24/7 as always."
Listen here
CUTV News Radio
Listen to CUTV News Radio Spotlight on Dr Debra and SolePath
"CUTV News Radio, with veteran award-winning broadcast TV and radio hosts/media personalities Jim Masters and Doug Llewelyn, is an exciting, informative, entertaining, thought-provoking and empowering broadcast series featuring several LIVE episodes daily and is a service of the Telly-award winning CUTV News, a full service media company that provides entrepreneurs, business owners and extraordinary people a platform to share their story worldwide. On CUTV News Radio, we feature fascinating guests from every walk of life!"