Level 1 SolePath technician training – a deep journey into self-awareness
Level 2 SolePath mentor training – certification to provide SolePath mentoring services for others
Level 3 SolePath clergy registration – licensed to officiate ceremonies, weddings, end of life and other ceremonies
SoleYoga teacher training – certification to teach the 9-step SoleYoga journey (coming soon)
Next SolePath technician training dates:

Fall 2019 – October 2, 9, 16, 23, 30, November 6, 13, 20. 6pm till 9:30pm.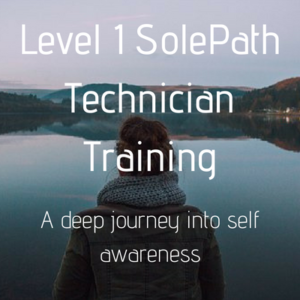 Level 1 SolePath Technician Training:
This training is a journey of self-discovery, a deep understanding of your own personal unique SolePath, SoleNumbers, SoleFace and SoleHealing. The Tao is the foundation of all our work at the SolePath Institute. Training includes an introduction to the Tao and not only will you know more about yourself and how you navigate your light and your dark, you will know how others find their way to their expanding energy, their soul purpose.
This training gives you an opportunity to integrate into a group of like-minded people and explore metaphysical concepts. For you and your personal soul evolution; for your understanding of how others 'tick' and how best to communicate with them.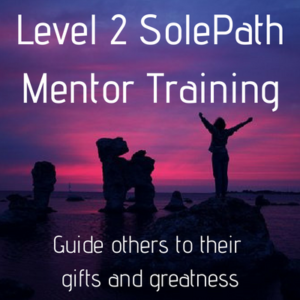 Level 2 SolePath Mentor Training:
Learn how to guide others to their own deep self-awareness. Guide them to understand themselves; to make sense of their personal and unique life experiences; to bring them to the place of knowing why they behave the way that they do. Help others uncover their gifts and greatness and walk their path to purpose and a beautiful life.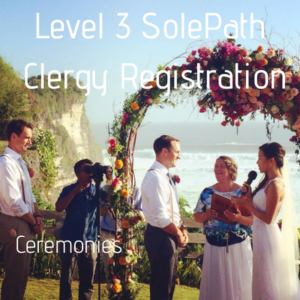 Level 3 SolePath Clergy Registration:
Your SolePath mentor training is recognized by the Canadian International Metaphysical Ministry (CIMM) and the American Association of Drugless Practitioners (AADP). Through CIMM and the SolePath Institute, receive registration as clergy with the designation of Reverend. You will be officially licensed to perform marriages, end of life ceremonies (funerals) and start of life ceremonies (christenings). Qualify for membership and benefits of the AADP.
---

SoleYoga Teacher Training – coming soon
Required: 200-hour yoga teacher training.
The full 9-step SoleYoga journey will help you feel more balanced and create a positive shift in your physical, mental and spiritual energy.

Level 1. SolePath Technician Training – Modules 1 to 4.
Level 2 Practical SoleYoga – one-day workshop:
Certification to teach SoleYoga classes, integrating the teachings of the Tao and SolePath energy tools (affirmations, gemstones, essential oils and more) into the yoga class environment. A beautiful melding of yogic teachings from India with buddhist and confucian understandings from ancient China.
9-step SoleYoga journey
Each class in the 9-step SoleYoga journey is a registered series, exploring the teachings of the Tao. Takes you on a journey through each of the SolePath categories, which represent the perfect balance of the Tao. Is tailor made to focus on a different aspect of your personal energy and is a unique experience, engaging your body, mind and soul.
Body: specific yoga poses
Mind: affirmations
Soul: the energy of colours, gemstones, essential oils
---

SolePath Training Curriculum
Level 1 SolePath Technician Training Curriculum:
Module 1: The Tao and SolePath Categories: The Tao represents the fundamental nature of the Universe, the origin, the Creator. The Tao means your path or your life's journey. The Tao is the understanding of life, an awareness of that which cannot be fully grasped, a belief in that which cannot be fully explained – but is known by the soul.
Module 2: The Tao and the LightPaths:Your LightPaths are a place of expanding energy and show the gifts and greatness inherent within you.
Module 3: The Tao and the DarkPath: Your DarkPath is a place of collapsed energy and depicts the challenges that you are growing through in your life.
Module 4: The Tao and SoleNumbers: SoleNumbers is your guide to purpose and an understanding of what you are meant to be doing with your life.
Module 5: The Tao and SoleFaces: Your face provides clues to the habits and behaviours that are holding you back from living in your greatness. Your face is your road map of your life experiences. Your face is the story of who you have been. Your face shows the impact of others in your life.
Module 6: The Tao and SoleHealing: "Within each person is a vibration that can be matched for perfect health." Seth. You can only heal your body when you are experiencing expanded energy; negative emotion is the cause of your mental and physical dis-ease.
Module 7: The Tao and Emotional Divination:The purpose of this training module is moving you from dark to light; from collapsed negative energy to expanding positive energy. It is about finding your way in life, being happier and making a difference one person at a time.
Module 8: The Tao and SoleIntending: A profoundly simple concept that connects the fundamental teachings of the Tao to a balanced intending process to create the life of your dreams.
Textbook for each module.
Level 2 SolePath Mentor Training Curriculum:
Module 1: The art of listening
Module 2: 9-Step program. A mentoring process that is a beautiful guide to who you are born to be
Module 3: Three 9-Step program practicums
Textbook for module 2.